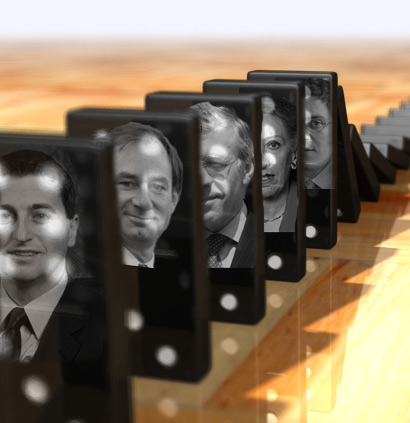 Tony Blair's decision to change the composition of his cabinet has generally been termed a reshuffle – the same term as from card games. You get your cards – your ministers – and you mix them up. Yet when you look at today's changes, it's actually more of a case of dominoes that Tony has been playing. Look at it like this:
(1) Jack Straw: Foreign Secretary to Leader of the House
(2) Jeff Hoon: Leader of the House to Europe Minister
(3) Douglas Alexander: Europe Minister to Transport Minister
(4) Alistair Darling: Transport Minister to Secretary of State for Trade & Industry
(5) Alan Johnson: Secretary of State for Trade & Industry to Education Minister
(6) Ruth Kelly: Education Minister to Local Government / Communities Minister
(7) David Miliband: Communities Minister to Environment Minister
(8) Margaret Beckett: Environment Minister to Foreign Secretary
There's also the parallel, smaller game:
(A) Charles Clarke: sacked as Home Secretary
(B) John Reid: Home Secretary, was Defence Minister
(C) Des Browne: Defence Minister, was Chief Secretary to the Treasury
(D) Stephen Timms: new Chief Secretary to the Treasury
OK, there are a couple of other minor moves (Hazel Blears as Party Chairperson for example), and Ruth Kelly will also take on many of the tasks that were previously done by John Prescott. Yet here we are with major changes to the portfolios of the ministers, but very little new blood in the Cabinet! Essentially only Clarke has gone. Are we really so short of talent in the Labour Party these days?