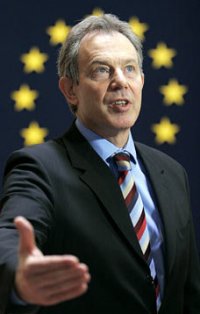 He's been quiet for a while, but Tony Blair is coming back into the public limelight. First he joined the Catholic Church (bad), then he joined JP Morgan (probably bad), he's aiming for peace in the Middle East (good, but probably he won't manage it) and this weekend he spoke to Sarkozy's UMP Party congress (bad [Labour is part of the PES!], although at least he spoke French). This has been widely interpreted as a first step towards becoming the nominee for the new 30-month long position of President of the European Council that will exist from autumn 2009 onwards. I assume Blair is not interested in anything in the Commission.
On this issue I'm really torn… Conventional wisdom would suggest that Blair would not have a hope of getting that position. He's from a large Member State, and his reputation at EU level is really tarnished thanks to the war in Iraq. Despite his undoubted abilities to charm people he did not manage to deliver on the pledge to put Britain at the heart of Europe. On the other hand he would be a big hitter, a politician with a degree of international credibility that the EU has generally lacked. Better Blair to speak to major world powers than Juncker or Ahern, some of the other likely candidates.
So I'm sitting on the fence on this one for now, but if you're more convinced than I am, join the Facebook Group supporting Blair's candidature.