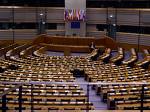 The European Parliament is trying to decide how numbers of MEPs will be allocated between different Member States in the future. News about it from EUObserver here. The Severin-Lamassoure idea is there should be 750 MEPs, with 6 per Member State, and a maximum of 96 for the largest country. Seats for the countries in between will be allocated according to "degressive proportionality" – this is broadly similar to the arrangement at present (see Wikipedia). Essentially the EU finds itself in this position because that's what has always happened, and allocation of votes in the Council is currently done in a similarly ad hoc fashion (until the Reform Treaty system starts in 2014).
But where can we look for some principles about how we might organise all of this? Essentially if we start with the federalist idea that the European Parliament is the body that represents the people of Europe, and the Council the body that represents the states, we should aim to ensure that each individual EU citizen is equally represented in the European Parliament – or at least more equally than before. At the moment 1 Maltese MEP represents 60.000 citizens and 1 German MEP represents 600.000 – should we not be asking whether that is right or not? If the Lamassoure-Severin report were to be implemented that would remain more or less unchanged.
For what it's worth, here is my idea for a system. Allocate each Member State 6 MEPs as a start. This allows a decent degree of party competition (we'll rule out trans-national lists for the moment). Then allocate 1 additional MEP for every million citizens. Hence Germany, with 80 million citizens, would get 86 MEPs. Malta, with less than 1 million citizens, would get 6. Sweden with 9 million citizens would get 15. With 27 Member States, and 490 million population, that would leave you wil a EP of 652 seats. Even with an eventual accession of all of the Balkans and Turkey the figure would be nudging 750. It's simple and principled, and has no hope whatsoever of getting anywhere.