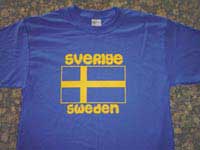 Sweden is a great place in so many ways – excellent social system, great on gender equality, generally happy population… Plenty of positives can be found in the Sweden & Swedish category.
But this blog has today been linked by a couple of blogs (here and here) of Swedish right wingers to complain about the English spoken by a Swede, Jytte Guteland, now President of SSU, in a film in my website here. This really highlights my main gripe as someone who speaks some Swedish but cannot conduct political discussions in that language: a common unwillingness of people to speak to me in English about anything important. I'm often introduced to new people when I'm in Stockholm, they reply in perfect English, and then switch back to Swedish knowing full well I don't comprehend. I presume this is motivated by the wish to speak perfect English, and maybe the fear of ridicule so clearly shown on the two right wing blogs. It's really different to the attitude I have always come across in Germany: a determination to speak English to me whatever the circumstances, even though I speak decent German.
Trust me, I don't care what English anyone speaks to me. Or German, French, Italian or even slow Swedish for that matter. I've been there in the demeaning situations where you're in a place where you cannot get your point across due to language difficulties; there's no way I will ridicule anyone for how they speak English. I'm very happy that Jytte was willing to conduct an interview in English – she deserves credit for that.