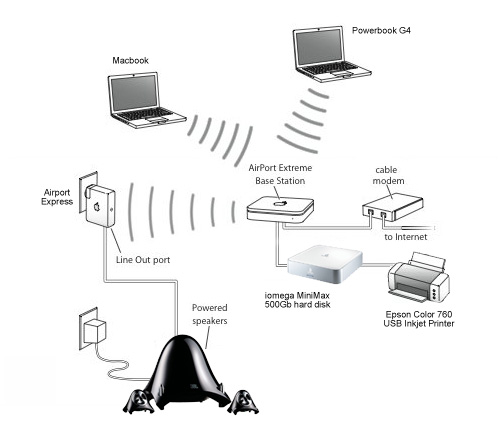 The requirements: music in the living room, printer and internet connection in the office, laptops to connect from anywhere in the flat, and the need for hard disk backups of both laptops. Today I reckon I've finally managed the whole thing: the Ultimate Home Network.
My internet connection is with a Thomson THG540 modem, and this is connected to an Airport Extreme Base Station. An iomega MiniMax 500Gb hard disk is connected to the Base Station – it's partitioned into 3 (for MacBook backups, Powerbook backups and other files). I discovered that the MiniMax does not work correctly if placed too close to the Base Station – wireless signals interfering I imagine. A faithful old Epson 760 color inkjet printer is connected to the USB hub on the back of the MiniMax. All of these gadgets sit in the office.
Music is streamed (with AirTunes) from iTunes on either laptop to an Airport Express in the living room, connected up to some cheap but excellent JBL Creature powered speakers. It's also worth downloading the excellent Airfoil that allows you to stream any audio to an Airport Express – including Last.fm for Mac.
Both laptops are Macs, running Mac OS X Leopard and using Time Machine for backups to the iomega MiniMax. That was the last missing piece in the jigsaw as Apple has only just solved the backup issue to USB drives connected to an Airport Extreme.
So how much does all this cost to put together, excluding the laptops? Airport Express is £65, Airport Extreme Base Station £119, iomega MiniMax 500Gb £109, JBL Creature £70, about £50 for an inkjet printer, and a modem would normally be free from your ISP. You could alternatively substitute in a Time Capsule (£199) for the Airport Extreme and MiniMax.