Those of us who follow Brexit on an everyday basis have become obsessed by process. How, we ask ourselves, will the 14 day timetable imposed by the Fixed-term Parliaments Act post-Vote of No Confidence (VONC) play out with the required 5 or 6 weeks to hold a General Election, and the 31st October Brexit date set through the Article 50 process?
If Prime Minister Johnson, after having lost a Vote of No Confidence, just sat out the 14 days foreseen by the Fixed-term Parliaments Act, could the UK just end up with a No Deal Brexit in the middle of an election campaign – because there would not be enough time to organise a General Election before Brexit day?
To give an example of how seriously this is being taken in London, Nick Boles even uses this argument to justify why legislative rather than VONC routes are the best mechanism to stop No Deal in his letter to Jeremy Corbyn here.
But take a step back and think about this for a minute.
Think about it in light of the Yellowhammer leak. And think about it further in terms of Boris Johnson trying to develop a narrative that everyone else (the EU, Remainers, the Commons etc.) is responsible for the mess of Brexit so he can escape the responsibility.
Or – put it more bluntly – how are voters going to react if there were fuel shortages, a lack of drugs, or empty supermarket shelves, in the middle of the election campaign? And even if the General Election were the day after No Deal Brexit – on 1st November – the panic as to what might befall the UK is going to break out before the election.
There is no way that voters are not going to punish Johnson and the Conservatives for letting that happen. There is no one else Johnson could blame for sitting on his hands through this, rather than at least going to the EU and asking for a couple of months more time to allow an election to take place.
Could Johnson survive headlines like this? (yes, it's a mockup I made – buy you get the idea)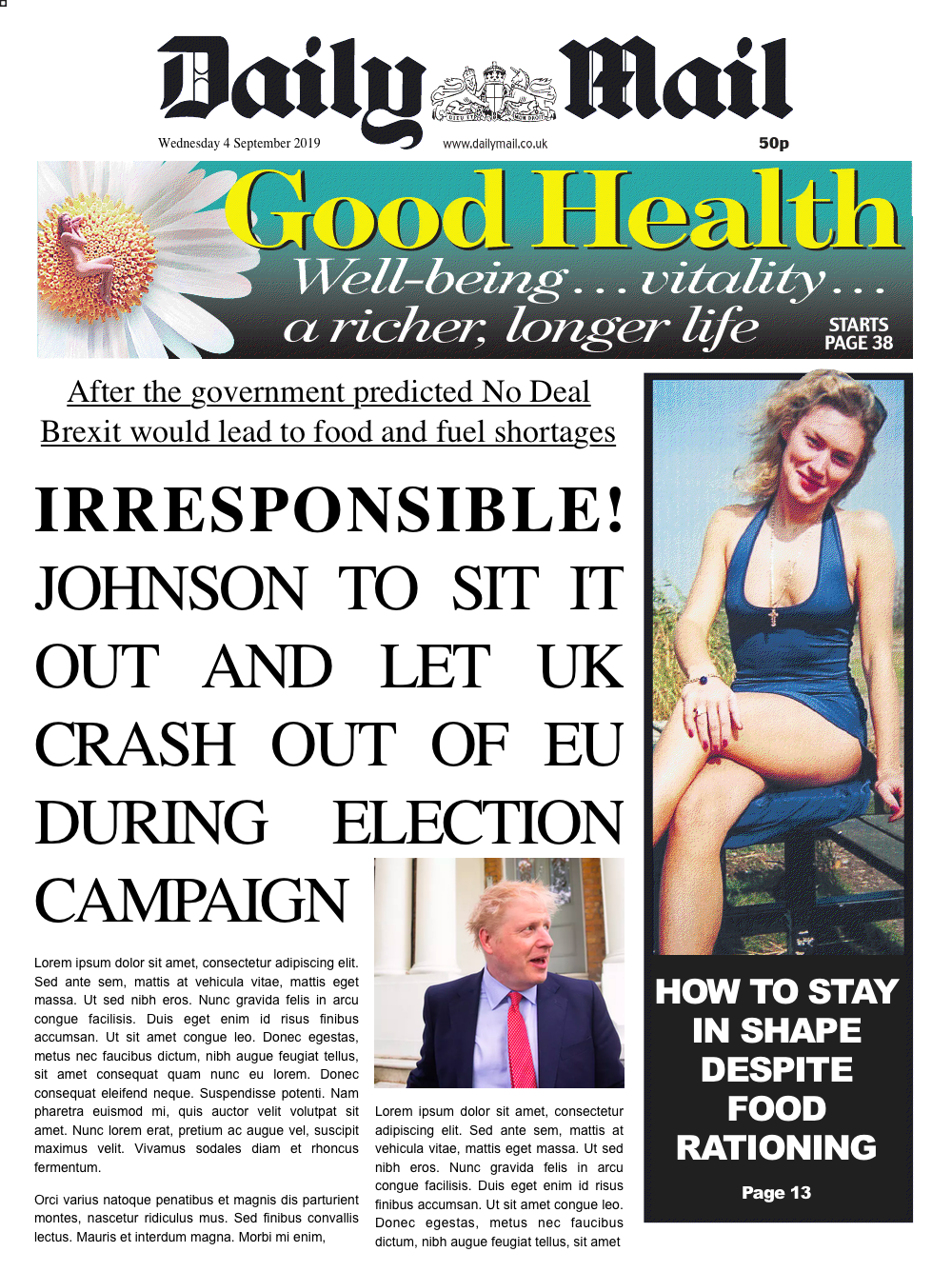 The whole premise with No Deal is it will be a shock that its proponents think will, medium term, be possible to overcome. But if No Deal causes anything like the chaos foreseen in Yellowhammer, the incumbent party is going to take one hell of a hit in an election campaign taking place within weeks or even a few months of No Deal.
The only way to make No Deal manageable, politically, would be to do it without an election, and hope that 6 to 12 months on an election could be survived. Or to organise an election, and then go through with No Deal – with enough of a majority in the Commons afterwards to survive the fall out.
Britain might yet crash to No Deal, but it is not going to do it during an election campaign.