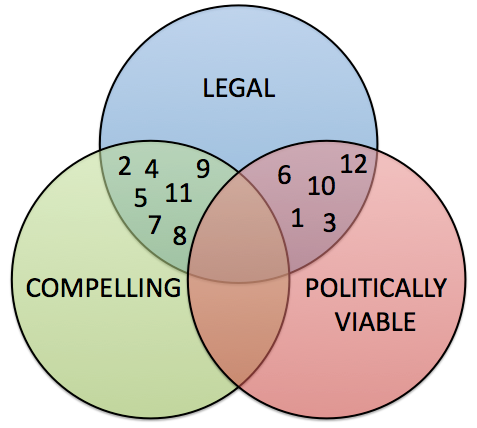 Over the years I've continually argued that the European Union needs to improve its representative democracy – it needs to develop federal institutions, and give citizens a genuine voice at elections. Yet while, in essence, I still believe in that, I nevertheless have to admit that representative democracy is struggling nationally from lower levels of trust and lower participation (see the stats here for example), and perhaps other models need to be looked at.
One such model might be greater participative democracy, and thanks to the Treaty of Lisbon, this is now a reality with European Citizens' Initiatives, and – since the start of November – the first initiatives are available to sign. The list of initiatives that have been approved are below.
But first of all, what is the recipe for a successful ECI? This is summed up in the graphic above. First of all, any ECI has to be legal according to the EU treaties (see the ECI procedure). This effectively rules out ECIs about nuclear power or demanding one seat for the European Parliament in Strasbourg. Then any ECI already approved has to be both politically viable AND compelling in order to succeed. The problem is that – as I see it – none of the ECIs that have crossed the legal hurdle are both of these things.
These are the initiatives available to sign so far:
So, what can we learn from these? Numbers 6, 10 and 12 are extremely vague. Numbers 1 and 3 are more concrete, but are also not especially compelling. But all of these, if they ever could get 1 million signatures, might be politically possible. Among the others, 11 is concrete, but unachievable for market reasons. 9 – a ban on human embryo research, 8 – right to vote in other EU countries, 7 – stop vivisection and 2 – environmental standards are all too politically hot for the Commission to want to act. 4 and 5 are mutually contradictory, and highlight the complexity of the politics of ECIs. But my rather disappointing conclusion is no ECI hits the bullseye in the middle of the diagram above.