For years on this blog I have painstakingly been documenting the Brexit saga – in more than 50 diagrams and more than 200 blog posts. I don't know if anyone can really have described themselves as a Brexit expert back at the time of the referendum, but over the past 4 years that is, in some way, what I have become. Through a combination of knowledge of the EU before I started writing about Brexit, an ability to research, and sheer hard work to get to the bottom of all sorts of aspects of it, I have become some sort of an expert.
But why, actually, is it worth my while bothering? When the political editor of a national newspaper can write this: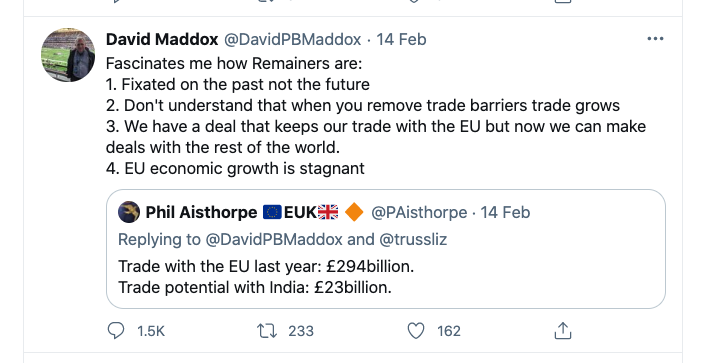 This is not just pro-Brexit bullshit. It is an outright denial of reality. At least point 1. is partly true – but the notion of the Sunday Express not bemoaning what we have lost is a stretch. But it's 2., 3. and 4. that are just plain ridiculous. The Deal the UK has struck with the EU has increased barriers to trade. The Deal does not keep trade with the EU at the level that it was. And whether economic growth in the EU is stagnant or not doesn't matter – putting up barriers to trade with your nearest neighbours has a cost.
Now don't get me wrong – there might be a justification for those costs or those barriers, because there might be wins elsewhere. But you cannot deny their very existence.
Does this stem from abject ignorance, or from malevolence? I can't tell. It's not a good look either way.
But sadly this has a real personal psychological cost – to me personally.
Here is a guy who hasn't got the faintest sodding clue what's actually happening as a result of Brexit… and he is the Political Editor of a UK Newspaper.
I am never in my life going to become the political editor of a newspaper. I am never in my life going to have the reach he does, the audience he does.
Why is it even worth my while trying to understand things, trying to explain things, researching this, trying to be careful with my words? When with enough chutzpah you can just blatantly either lie (or completely misunderstand) and nevertheless succeed to the extent I never will. And if it's not David Maddox then it'd be Darren Grimes, Daniel Hannan or Tom Harwood. Or, with a little more cleverness, it's Andrew Neil or Ben Judah.
Once in a while I have this dream of escaping this cycle of bullshit and leaving it all behind and move to Languedoc and grow grapes instead. Today is one of those days.