I'm on my way back to Brussels from Personal Democracy Forum Europe in Barcelona. I enjoyed participating in the conference, and was also very grateful to have been able to moderate one of the sessions there. Some of the everyday practical conclusions of PdF Europe will become clearer in due course, but for the moment I will restrict myself to a reflection about the intrinsic nature of the event and its participants. So here is my PdF Europe compass, very roughly modelled on Political Compass: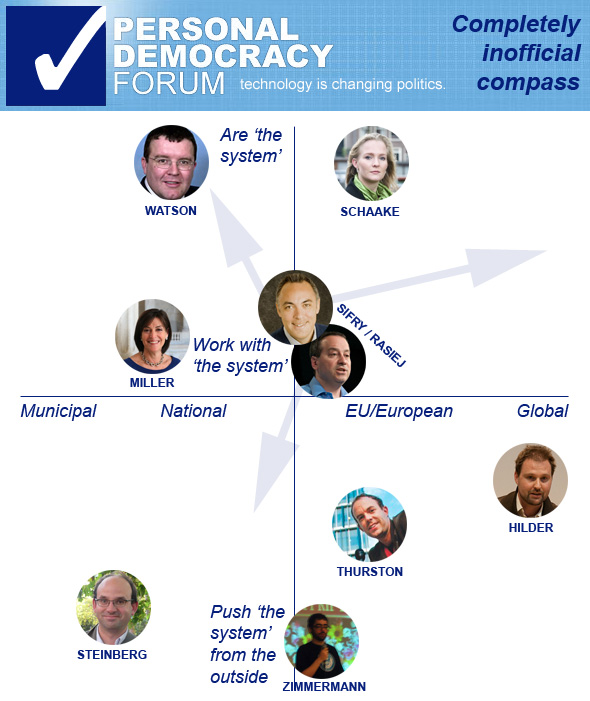 Yes, of course this is terribly subjective, and some of the characters appearing on the compass may object to their positioning. 'The system' also sounds all too like something from Stieg Larsson but I can't think of a better term for the moment.
But the essential issue is this: to what extent is PdF about changing the system from within, or changing it from the outside?
Take Tom Steinberg's critique of the EU's eGovernance funds and how badly these are spent. Yes, fair point, but if you're Marietje Schaake then you know it's total hell to change this and there are better battles to fight in the short term.
If you're Jeremie Zimmermann, convinced in an almost functionalist manner that your arguments are right if you commit enough geeks to the cause, then how do you feel that Andrew Rasiej, conference organiser, has previously run for political office and with Micah Sifry the two of them run a blog (techPresident) about – essentially – insider politics?
PdF must remain a combination of all of the different tendencies represented on the compass, and it's vital there is a respectful relationship between all concerned. The challenge now is to build on the Barcelona event and make sure those tensions are used constructively rather than destructively.
But as my T-Shirt at the conference on Friday said: it's probably more complicated than that
In the diagramme: Tom Steinberg (web | twitter), Jeremie Zimmermann (web | twitter), Jack Thurston (web | twitter), Andrew Rasiej (web | twitter), Micah Sifry (web | twitter), Paul Hilder (web | twitter), Marietje Schaake (web | twitter), Tom Watson (web | twitter), Ellen Miller (web | twitter)