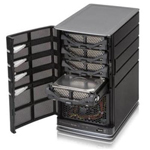 Let's remind ourselves of the lofty aims set out in the EU's so-called Lisbon Strategy back in 2000:
the most dynamic and competitive knowledge-based economy in the world capable of sustainable economic growth with more and better jobs and greater social cohesion, and respect for the environment by 2010.
Everyone has quietly stopped speaking in those terms about the strategy, and if today's World Economic Forum Global Information Technology Report 2007-2008 is anything to go by, it's clear how much catching up there is to do in the crucial area of IT infrastructure.
OK, two EU countries – Denmark and Sweden – top the table for the second year in a row, and that's made the headlines. But look at the whole table [PDF], and the picture for the EU is quite terrible. Bulgaria ranks lowest of the EU 27 – 68th place, below those places well known for their commitment to IT such as El Salvador, Uruguay, Barbados, Tunisia, Egypt and Costa Rica. Poland (62nd), Romania (61st) and Greece (56th) fare little better. So much for the EU knowledge based economy!