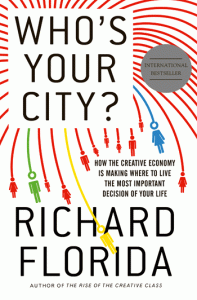 I've just finished reading Who's Your City by Richard Florida and, in short, it strikes me as intuitively about right. The essence of the book is that where you live is as important a choice as what your job is or who your partner is. Additionally Florida argues that the creative economy is making the world more 'spiky' – that individuals in particular sectors cluster together and for the best career prospects you need to be where these clusters are.
Reading the book now has helped me try to structure my own thoughts about these matters. For the last two and a half years I've lived mostly in Brussels with plenty of time also spent in London for work. Now it's high time that something changes. That might not necessarily mean a change of home city, but freelance web design and EU politics training based in Brussels is not working. I've not found the creative kick I need in the political web design arena here and the practical EU training is not as challenging or fun as it once was. I first blogged about these dilemmas in January – this post is a more detailed follow up. If I am to move it would be from sometime this coming summer.
There's also a common misconception among friends about my work – because I do web strategy and web design plenty of people assume I can do the work from anywhere. Yes, that's true, I can work from anywhere, but I cannot get work anywhere. Because the work I get is all thanks to word of mouth, via people I meet at events, colleagues of colleagues etc. I need to be based in a place where the market for political websites is strong and vibrant.
First of all, what are the options?
Brussels, London and Berlin are the obvious possibilities. I always enjoy time I spend in Germany, but is there any city other than Berlin worth living in? Nordic cities (Oslo, Copenhagen, Stockholm) are organised and creative, but also rather closed and I don't speak the languages. Same applies to Netherlands. USA and Canada are, for now, simply too unfathomable, and I crave order and Ordnung too much to contemplate France, Spain or Italy.
Running these cities through Florida's Place Finder comes up with the following scores: London – 70, Berlin – 67, other Nordic or German city – between 55 and 62, and Brussels – 47.

London wins hands down in terms of quality of the job market. The market for political web design and strategy is vast, and I am already well connected in the relevant sector. Being based there also keeps the door to future party political engagement open. There is also the possible side line of EU training there. English is my mother tongue, and I have a decent number of good friends there. Conversely, finding a decent place to live in London is hellish, and escape from the pressure of the city is not easy, and I would be more dependent on planes if and when I need to really escape the city.

Berlin wins enormously when it comes to quality of life. Ever since I lived there for a short while in 2001/2 I've longed to return. It's historic and modern, brilliant flats to live in don't cost the earth, there's abundant green space, and I have almost as many friends there as I do in London. But what would I do there? The city has a sky-high unemployment rate, and there seem to be more web agencies than there is work for them to all do. I speak German, but I don't write it flawlessly. Any prospect of party political engagement is more complex than London, but not out of the question. But might I end up there and have no cash and insufficient work to do?

Other Nordic, German or Dutch cities are some sort of balance between the pros and cons of London and Berlin, and perhaps present more tricky challenges than either. The nature around Oslo or Stockholm might be stunning, but could I see myself living in cities that geographically far from the European mainstream? Conversely there remains the prospect that an interesting project or job might attract me to one of those cities, but that's a rather distant prospect.

And then there's Brussels. As an EU and computer nerd it should surely be the perfect place? Work prospects are better than Berlin, but in large part because it takes than less than 2 hours to get to London. Quality of life is better than London, especially when it comes to housing. But the stodgy, unresponsive political environment gives no prospect whatsoever of local political engagement – I'm very much an expat in Brussels. Basic stuff not working, and risking my life every time I cycle are getting me down. Conversely I have more good friends here than I do anywhere else.
And so to the Wikinomics bit… I genuinely don't know the answer as to what to do, so I'm going to use the wisdom of the crowd people that visit my blog to try to help me answer. Please take a second to vote in the poll below and, if you have brilliant additional suggestions, please comment below!

Loading ...