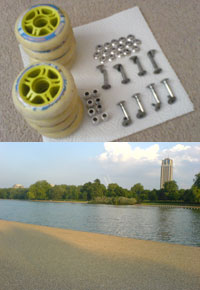 Feeling a bit athletic and having a free weekend in London, I decided it might be a nice idea to go for a skate. Problem is that skating in London is really restricted and I wonder what could be done to improve it.

Battersea Park is supposed to be a decent skate location, and better still it is onlt about 15 mins by bike from Clapham. Alongside the Thames (past the pagoda) the skating is not too bad – about 0.8km of flat, good quality asphalt. The only problem is that on a Sunday you might run down a small child or a dog. Maybe not a shame, but it would make a mess and the very many parks police would sure have a problem.
Anyway, the rest of the main 2.8km cycling circuit is not muct good for skating. It badly needs resurfacing and at the moment is not really an especially pleasant skate.
The only other option is along the Serpentine in Hyde Park – it's the number one place for skaters, the road is perhaps 1km long. But just going back and forth is quite dull…
Other options are the Friday Night Skate, Sunday Rollerstroll, and the Wednesday evening skates. But if you really want to train, and get some good speed, night skates are not quite right…
Anyway, I am off to Kalmar in southern Sweden next week – there there should be plenty of good quality flat places to skate!
[UPDATE: 18.06.2006]
Seems that Google has now found this entry about skating in London and plenty of people are visiting this one-year-old post! If you do want some fun summer skating in London, try Friday Night Skate, Sunday Rollerstroll, and the Wednesday evening skates. I've been a couple of times on Wednesday evenings – very good fun. You might also have a look at London Skaters Speed Team and Serpentine Road Forum.