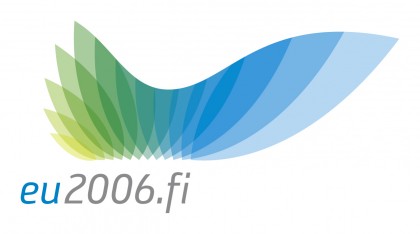 The Finns take over the EU's rotating Presidency in one month, and now they have the logo and website of the Presidency up and running. While the logo will not draw the ridicule that the UK's flying swans attracted, I think it looks a bit drab. OK, it's smart and symbolises openness and being forward looking etc., etc., but does it reflect the mood in the EU at the moment?
Further, the website of the Presidency looks quite professional, but the information is only in English and French. So much for efforts to communicate Europe to the people which is one of the arguments why the 6 month rotation should be maintained. Loads of building work has been going on for months in Helsinki to make the place even smarter for the Presidency, much to the chagrin of the locals, and I don't think the website is going to do that much to overcome local cynicism.
CORRECTION: have just found this information in Swedish where the Foreign Ministry will send out an information pack about the Presidency if you want one. The site looks quite old fashioned in comparison to the Presidency one though!