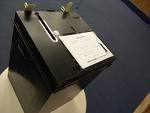 So the 'debate' about whether Britain should hold a referendum on the EU Reform Treaty rumbles on. The Tories snipe from one side that this is indeed the same as the European Constitution, a document Blair was ready to put to a referendum. This is set against the backdrop of Redwood's plans for deregulation and opt-outs from swathes of EU legislation.
On the other side the TUC is calling for a ballot on the treaty, concerned that the UK achieved an opt-out from the Charter of Fundamental Rights. The RMT goes further, stating that there should be no further transfer of powers as Member States should have the power to block neo-liberal EU legislation. Clearly they have not noticed that it's the Member States that are neo-liberal, and social conscience for legislation such as the Services Directive was provided by the European Parliament. I digress…
All of this is being played out in a democratic environment that is fraying at the edges. What is the right place for direct democracy in the UK? Should the calls for a referendum from one PM, now departed, mean that a precedent has been set for EU treaties? Let's not forget that the Single European Act and Maastricht, far greater transfers of power to the EU, were agreed through parliamentary ratification under Conservative administrations.
In most EU countries a solid precedent is set. Ireland and Denmark hold plenty of referendums on EU issues as their national constitutions oblige them to do so. Germany and Austria, among others, are constitutionally prevented from organising referendums.
It's high time the UK had a national debate, or a Constitutional Convention perhaps, to debate these matters. An erosion of the powers of the House of Commons is a regular complaint, often voiced by the same people that are braying for a referendum on the Reform Treaty. Under what circumstances should referendums be allowed? Should it simply be at the behest of the governing party to call a referendum so it can kick a political issue into the long grass, and hence out of a general election debate?
Sceptics might argue that the Reform Treaty itself puts UK parliamentary traditions in jeopardy. I would rather argue that the misguided arguments about a referendum, and the precedents that sets in the UK, are far more concerning.