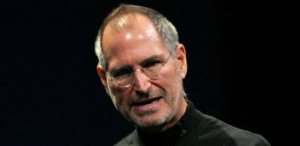 OK, the subject of this entry is not because I've been on the wrong end of something next to Gare de Midi. It's more metaphorical than that. It's actually a line from a Steve Jobs speech given at Stanford University in 2005 – you can read the full speech here. The speech happened to be an example used as part of a course I'm teaching about government communications these few days outside London. Little did one of my co-trainers know how poignant one passage of the text would be for me at the moment. Have a read of this:
Sometimes life hits you in the head with a brick. Don't lose faith. I'm convinced that the only thing that kept me going was that I loved what I did. You've got to find what you love. And that is as true for your work as it is for your lovers. Your work is going to fill a large part of your life, and the only way to be truly satisfied is to do what you believe is great work. And the only way to do great work is to love what you do. If you haven't found it yet, keep looking. Don't settle. As with all matters of the heart, you'll know when you find it. And, like any great relationship, it just gets better and better as the years roll on. So keep looking until you find it. Don't settle.
I reckon I'm lucky. I do love what I'm doing, or at least what I think I'm supposed to be doing – teaching people about things, and designing fun and interesting strategies for online campaigns. Being at my old workplace makes me realise I was right to keep looking. But on a practical level things aren't working at the moment; I'm swamped and I feel I've been hit by Jobs's brick. Just hope it doesn't feel that way too long.