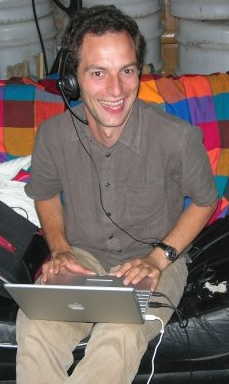 A few years ago – more by luck than judgment – I ended up as one of the DJs for most of the parties during my MA at the College of Europe in Bruges. The proper DJ had fallen ill, I had a load of MP3s, and I was asked to help out.
Fast forward 4 years and I'm at a friend's 30th birthday party in a house in the middle of nowhere outside St Ubalde in Québec and they need someone to mix some music so people can dance in the barn. Time for a bit of quick improvisation as I removed my old DJing software a long time ago.
So I came across djay 2.1.2, a brilliantly simple, effective and cheap DJ software for Mac, just the job for some quick mixing. After using it for a few hours I reckon it's ace – well worth the €39.99 / £31.48 to purchase. The only downside is it doesn't have automatic beats per minute (BPM) analysis and I'm weighing up whether to use Tangerine, BPMer or beaTunes for that. All you need in addition to the laptop is a second sound output – a Logitech USB headset will do the job, or a Griffin iMic with your favourite headset.
As for the music… Well, I reckon I've managed to find the most unusual place to ever play The Latin Kings Under Ytan Fördomar (those people that know me will understand the significance)