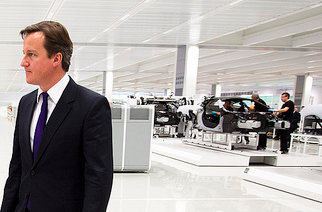 Realising his speech in January did not go down too well in EU capitals, David Cameron is this week embarking on a charm offensive across Europe. He's visiting Madrid, Paris and Berlin, among others, basically trying to sell to others his call for repatriation of powers, oops, no, sorry, that word can only be used in the UK. When delivering that message elsewhere there "should be a discussion across Europe about how we make the EU more flexible, and how we make clear that powers can flow back to nation states as well as flow forward to the EU".
But this very phrase – whether to use the term repatriation or not – precisely shows Cameron's problem. He is trying to play to an EU-sceptic public and particularly his backbenchers at home, while trying to sound conciliatory when in other EU capitals. It is a balancing act that does not work.
Prior to his departure, Cameron has been giving interviews to Le Monde and Süddeutsche, among others. The Le Monde interview is here, Süddeutsche (short version) here. "Wir sind immens positiv für Europa" he says in SZ, translated as "We are immensely positive about Europe". Could you imagine him saying that to a UK audience?
Of course all this comes after France and Germany refused to participate in the UK's competence review, so it is going to be a rocky road for him. The Times and The Telegraph, together with the centre-right commentariat in the UK will follow his every move, trying to determine if the body language between him and Merkel at a press conference is positive or not, or whether Germany seems to be open to Cameron's calls for reforms or not. And at the end of the week we will probably all be none the wiser.
But there remains an essential problem. Cameron seems to see the European Union as an amalgam of national interests, an intergovernmental union, a zero-sum game. Leaders in other EU Member States do not only see it that way. There remains the notion (false some might argue, but a notion nevertheless) that the European Union can itself achieve some degree of democratic legitimacy, something that Cameron implicitly rules out.
It is going to be an underwhelming week.