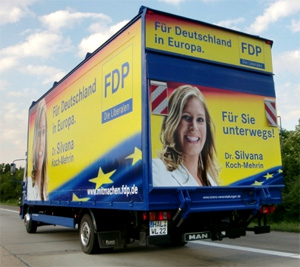 I first wrote about the Silvana Koch-Mehrin plagiarism case on 12th May, the day she chose to resign her positions in the FDP and as Vice President of the European Parliament. Notably she remained a MEP at this stage, saying that the resignations were to protect her family and the party and, by extension, were not an admission of guilt.
Today the University of Heidelberg has withdrawn Silvana's doctorate, judging that "substantial parts" of her thesis were copied, and that it did not qualify as an "independent academic work" (selbständige wissenschaftliche Arbeit). News from Süddeutsche and Spiegel in German.
Silvana: you cheated.
Why is this important? Firstly, because a Member of the European Parliament needs to be trusted by the electorate. If she has been shown to be untruthful in her own academic work, what else has she been untruthful about? This was the reason that Karl-Theodor zu Guttenberg resigned all political offices. A Member of the European Parliament is paid more than €6000 / month, financed by the taxpayer. Secondly, Silvana was elected while making use of her title on all campaign material, as the picture above shows. Elect this responsible academically-qualified person to the EP! Only it wasn't so.
So for the sake of the EU's citizens, and for the sake of the European Parliament and the FDP, Silvana should immediately resign as a MEP.