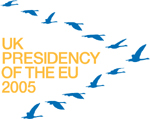 There has been a lot in the news this week about birds, especially bird flu. Maybe it's a bit bad taste, but I have been meaning to upload this alternative, animated version of the UK's EU Presidency logo for a while. The UK Presidency logo had also run into problems due to a striking resemblance to the Bruges Group logo – see this from the BBC.
I'd thought of that amusing animation after chuckling about another bird incident – Dick Cheney managing to shoot a man while hunting quail. If you want a laugh, have a go at making Dick Cheney shoot straight here.
For the more serious story of the week, the European Parliament has approved tougher rules for conditions in which chickens live – see this. Better late than never I suppose – I wonder how many chickens and chicken farms there will be in Europe by the time this is implemented?