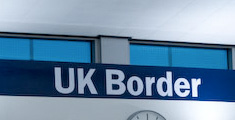 BBC News Online has a good piece about the implications for tourism of the enlargement of the Schengen border free area in Europe, only one thing is missing: any discussion about Britain eventually joining the parts of Schengen that are actually useful to citizens. Essentially there are 3 elements of Schengen: no border checks at EU internal borders, a unified visa system, and a computer information database (the Schengen Information System – SIS) used to exchange data on border security and law enforcement. The UK does not participate in the first two, but does participate in the SIS, so Brits get all the oppressive bits but none of the useful liberal parts.
Now it is quite tedious to queue up at the 'UK Border' in Heathrow or Stansted, but it's possible to live with it I suppose – the worst aspect is the chronic inefficiency of the checks and the long queues. The really silly thing is the visa issue. If you are South African and resident in the UK – for work, studying etc.- and have the correct visa, you have to apply (and pay about £40) for a Schengen visa every time you want to visit France or Germany. If you're South African resident in France you can of course visit Germany without any problem at all.
In the meantime the UK is wanting to tighten its visa procedures still further, despite not really knowing how many non-EU citizens there are in the country anyway. It's even managed to annoy John Purvis, a Tory MEP – and Tories in the EP are never well known for a pro-EU approach.
[UPDATE – 21.12.2007]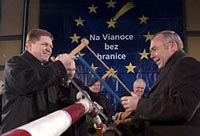 The borders are open today, and waves of criminals are already forcing their way westwards. That's if you believe the British newspapers. See these articles from The Telegraph and The Guardian, and this scaremongering last month in the Daily Mail. We should be celebrating this removal of the borders. OK, it's not quite the same as the ending of the iron curtain, but it's important and symbolic. I was joyous when I watched Fico and Gusenbauer sawing through a border barrier on Euronews yesterday. You might argue that it is disingenuous of the Austrians who, after all, still impose restrictions on Slovaks working in Austria, but hey, they can at least cross the border easily.