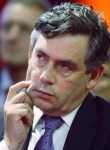 I'm stuck. Really stuck. The more time goes on, the more Blair's reputation gets battered, the more he comes up with more silly policies, the more I want him to stay as Prime Minister! Or, let me correct that, the more time goes on, the more I get scared and concerned by the prospect of a Gordon Brown premiership, and Blair hence needs to stay a bit longer with the faint hope that an alternative candidate might emerge. I reckon I am far from the only Labour supporter who finds themself with this moral dilemma. This column from Brendan O'Neill develops the theme.
The issue has been put into stark relief for me over the last 7 days, having attended the AGM of the Labour Movement for Europe and a UACES / Chatham House seminar about the UK Presidency. I could not find any pro-Europeans on the left who were looking forward to Brown taking over at Number 10.
Then there is the issue of what he would do in UK politics, as summed up by Polly Toynbee: We wait to see if Gordon Brown can breathe life into what is fast becoming a party of incompetent managerialism. Well, it might be more competent from Brown, but I cannot think of any more managerial or technocratic politician in Britain than him.
So what do we do about it? I came up with the wacky idea of starting a website / blog called anyone-but-gordon or something like that, the site becoming a place for some debate among Labour supporting people about what alternatives were available? If you like the idea, please add a comment here or send me an e-mail using the contact form on this website (click 'Jon Worth' at the top of the page, then 'Contact'). Those of us that care about this must do something – this might be a start?