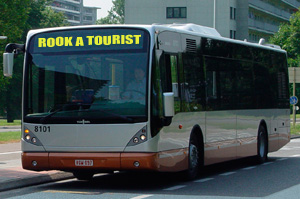 Every country has its scheme to get more money out of travellers going to and from the airport than would otherwise be the fare for a journey of the same distance. STIB, the Brussels public transport, has a new one for the Airport Express buses 11 and 12 from Zaventem to Schuman. Tickets cost €4 if you buy them on the bus, and €3 if you buy them beforehand, only there's no way to buy a ticket beforehand at the airport – so everyone gets fleeced for an extra Euro.
This is quite mild in comparison to the 'Leonardo Express', the train between Fiumicino Airport (FCO) and Roma Termini railway station. The train is run by FS, the main Italian rail company, and rather than change their pricing structure per kilometre they instead make the airport train a 1st class only service, but still use 2nd class carriages. Classy.
Then there is the UK. Stansted Express is just damned bad value – £26 for a return ticket on a commuter train just painted a different colour. Heathrow Express into London is at least comfortable and efficient, but for 15 minutes it must be one of the most expensive rail journeys anywhere.