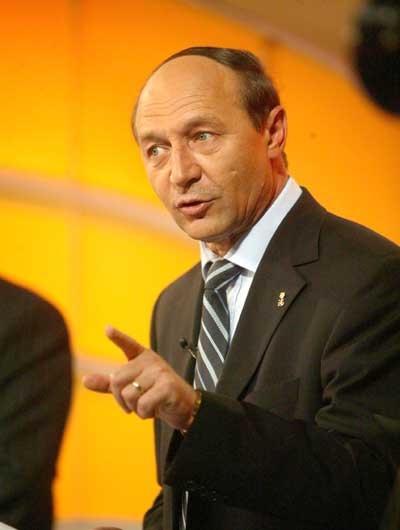 The focus of most of Europe's press this week has rightly been on the French elections. I've had an eye on that too, but there's nothing I can write about it that has not been adequately covered elsewhere. I would instead like to reflect a little on the other major political development in Europe over the last week – the vote in the Romanian Parliament to suspend President Traian Basescu and the decision to hold a national referendum on his position by 19th May. Herald Tribune has a good overview of the events here. I've always been intrigued by Basescu – probably the only politician anywhere to have built his reputation on the elmination of stray dogs.
So what is going on in Romania? According to FAZ (in German), backed up by an article by Valentina Pop in EUObserver, essentially Basescu is being challenged from all sides for being too straightforward and essentially playing the role of an outsider on the inside (almost Ken Livingstone style). Basescu, together with some reformist ministers in the government, essentially delivered the reforms necessary to allow Romania to join the European Union. Once 1st January 2007 passed, things have turned sour – most notably with the efforts to impeach Basescu and the sacking of Justice Minister Monica Macovei. The latter was appreciated by Brussels but not by the Romania Parliament. Romania hence finds itself in a constitutional crisis that may well deepen further if – as suspected – Basescu's impeachment is not confirmed in the referendum scheduled for 19 May.
In the meantime the EU looks on quite helplessly. Barroso and others have stated that Romania needs to get the crisis sorted out using its own methods, but the European Parliament elections in Romania have been postponed in order to achieve a national solution. Plus with pressure being increasingly applied to Basescu, and government ministers talking a much more anti-EU rhetoric, the situation for Brussels is not easy. If the EU was to trigger the safeguard clauses that accompanied Romanian accession, would that actually help? On the other hand, with equally shaky politics in Poland, Slovakia and Hungary, would a tough message to Romania from the EU not just look like hypocrisy?
I've followed Romania's route towards joining the EU with great interest since first visiting the country in 1999, and have many friends there. To see the current state of affairs makes me so very sad, especially as I don't see what the EU could or should do to help improve matters.