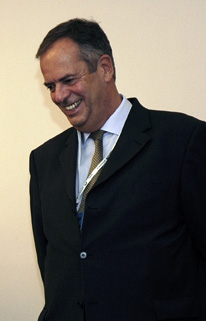 It seems to be increasingly rare that I turn up to debates and lectures these days and emerge saying to myself that I really hard learned something new and interesting. Perhaps the circles in which I work are too narrow. Yet this week I've been privileged to hear two excellent speeches by Brits from the centre-left, both committed Europeans and experts in their fields.
On Monday Richard Corbett addressed a Federal Union event, commemorating 100 years of the birth of Italian federalist Altiero Spinelli with whom Corbett had worked in the early 1980s on the Draft Treaty Establishing the European Union. Oh for some visionaries in the mould of Spinelli in today's EU. Corbett's thoughful reflections, and the serene atmosphere in the Italian Cultural Institute in Belgavia made this an event that was very much out of the mould of the stale pro vs. anti style of so many EU events in the UK.
That was followed up yesterday with former Secretary General of the European Parliament, Julian Priestley, giving the John Fitzmaurice Memorial Lecture at Brussels Labour, on Labour's tortured relationship with the European Union. The depth of knowledge of this gentleman who held the position of the top official in the European Parliament for a decade, and attended every European Council during that period, is remarkable. His cunning turn of phrase, saying much with expressions and by the words he chooses not to utter.
I'm off to Copenhagen tomorrow for the Congress of JEF. Fingers crossed the quality of the debate matches what I've heard this week so far.