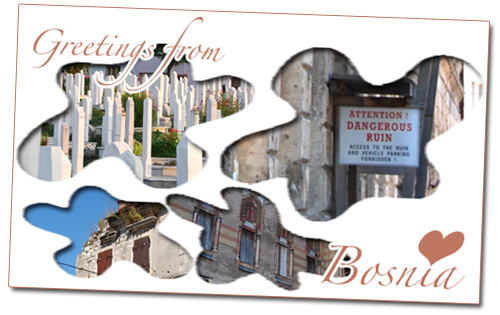 Rounds are fired, politicians posture, and families flee. So is the story from Gori today and from Mostar at the start of the 1990s. As war in the Caucasus turns to nervous truce I've been watching the news reports and reflecting on the goings-on while spending during two weeks in the former Yugoslavia – Rijeka, Sarajevo, Mostar, Dubrovnik and the island of Brač.
There are tourists all over the Adriatic Coast, partiularly Italians everywhere, Germans and Austrians in Sarajevo, and plenty of Brits and Scandinavians in Mostar and especially in Dubrovnik. It is encouraging that these places are now able to generate a good tourist trade, and are ready to move on from a troubled 1990s.
But I wonder how many of the visitors that pour off the cheap flights from Köln, Milano, East Midlands and Stockholm in Rijeka, Split and Dubrovnik, take the opportunity to learn from what happened in the Balkans very much in living memory?
One Wednesday morning I was the only visitor at the excellent photo gallery War Photo Limited in a quiet side alley in Dubrovnik Old Town. It is remarkable to see the images of the fire burning in the old port of Dubrovnik in 1992, the very same place I had sat at a crowded restaurant the evening before for a meal and a pivo.
Earlier in the week I was one of the few that ventured away from the UNESCO-listed old town in Mostar, beautifully restored, and climbed the overgrown steps into Mostar for real, many buildings still burnt-out shells with bullet holes in the concrete. Sarajevo the same – not too many leave the film festival to visit the cemetery on the hill.
Don't get me wrong – I'm content that tourists are making their way to South Eastern Europe. But we must never forget the horrors of war, and the dangers of not acting to stop a conflict, and the former Yugoslavia is a sober reminder of that. When, tanned and happy, the tourists return home to see images of tanks on the streets of Poti or rallies in Tbilisi on BBC News, RAI or Tagesschau, do they make the link?
When politicians in the EU's major powers – France, Germany, UK, Italy – are faced with tough choices about military action, whether to send troops to our near neighbours (for the Georgia experience shows it will happen sooner or later), will those same content tourists sat at the old port in Dubrovnik be the first ones to criticise the actions of their politicians, unwilling like the rest of the population to send troops to faraway places?