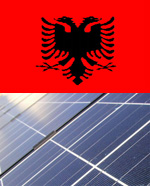 It was a crisp, sunny Sunday in Brussels, with families walking in the parks and the low sun making St Josse feel less drab. When leaving home I passed a couple of cars with Kosovo flags hanging out of the open windows. I wished the driver 'felicitations' for independence as I passed, and he smiled and waved. It was in some small way a link to the mass outpouring of emotion in Pristina yesterday as documented comprehensively by Mark Mardell.
The press coverage of independence has been mixed, with plenty citing the divisions within the EU, and the opposition to independence from Russia and Serbia. While I would not like to be one of the 100000 Serbs in Mitrovica today, the reason I support independence is for those 2 million Albanians who now have some prospect of putting their future in their own hands. The road will not be easy, but ask yourself this: what other option was better? Being part of Serbia is unviable, merging with Albania impossible. So while it might divide the Balkans further independence is the only route and I wish the people and Prime Minister Hashim Thaçi all the best. I so hope their joy is not short-lived.
I then began to wonder what event in UK politics generated any kind of positive aspiration and excitement since Blair's victory in 1997? What, if anything, could manage to make people take to the streets and be excited and impassioned? Take a look at The Guardian about the environment today, or any other UK daily for that matter, and I just feel like tearing my hair out.