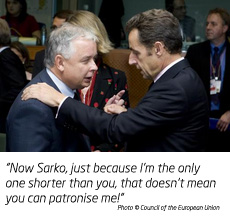 It's the first rule of EU negotiations: present a united front in Brussels and then, even if things don't go your way, you can retreat to your national capital and say "OK, at least we fought for X, Y or Z". Not so for Poland at this week's European Council according to an amusing yet alarming article from EUObserver, detailing the tensions between Polish PM Tusk and President Kaczynski. The latter even chartered a plane to get himself to Brussels as Tusk had barred him using Polish government planes.
From the EU side European Council meetings are for Heads of State and Government (so you get Sarko, a President, and Brown, a Prime Minister) but that does not answer what happens when you have a cohabiting arrangement with a Prime Minister and President from different parties who dislike each other and also seem to have little respect for either decorum or protocol.
It would not surprise me in the slightest if Vaclav Klaus, the Czech President, would perform similar antics in the future, yet I cannot imagine any politician from the old EU-15 Member States behaving that way in Brussels – or at least not so openly.