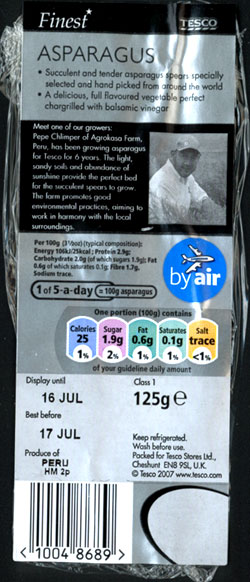 It seemed like a good idea: some fresh asparagus on a summer weekend. Yet when upon starting to unpack the veg, it turned out we had overlooked the fact that it had been imported from Peru. Why, oh why, do we need to import asparagus from Peru when it will grow fine in Europe to be ripe in early summer? Beyond this there's the guilt of food miles.
But then I started to think further… Many people will have been taking home steaks of British beef from their local supermarkets. Farmed animals produce an enormous quantity of methane (see this post) and I am sure that most of the people eating their steak never think about the amount of damage to the environment they are causing by eating it. Ken Livingstone's excellent DIY Planet Repairs website mentions food miles but makes no reference to vegetarianism at present. There's some more analysis from The Guardian here.
So the next time you feel you want a big bloody slab of flesh, think again.