My visits to London give me a short, sharp dose of news in the UK – and what a dose over the last few days.
I saw part of a remarkable interview on Newsnight last night (available on the BBC website here – link top right) with Jeremy Paxman interviewing Paul Stinchcombe and Anne Campbell about the ethics of the vote on whether to go to war in Iraq, 5 years ago yesterday. Stinchcombe looked on the edge of tears and was still so wracked by the feeling of having made a wrong decision. Campbell was happy to have voted against the invasion and answered more about the personal consequences. For anyone thinking politicians lack morals, and also for anyone that thinks an issue like that is black and white, it's well worth watching – and it shows media in a positive light.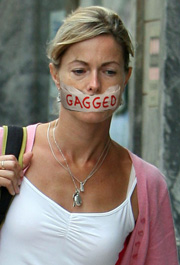 The complete opposite is the awful ongoing saga about the disappearance of Madeleine McCann. It's terrible that a kid disappears, but let's face it: many do. Thank goodness few parents of kids that go 'missing' kick up the almighty fuss that the McCanns have done. They have managed to organise a campaign to defend their own innocence in the media, and this campaign effort seems to go on and on – most recently with a £550000 libel settlement with Express newspapers, and front page apologies in those papers.
OK, the case against the papers is pretty categoric as Greenslade argues, but how can the British press manage to get so carried away with this? Why can't everyone just face it that Madeleine is not going to be found, have done with it, and have some private grief about it? When will her parents just shut up about the whole thing? What other country's newspapers would get so carried away with such a story? Plus is there ever going to be a chance of a fair and decent investigation if every rebuttal is aired in the press so openly? Gruesome in all regards.