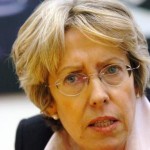 Health Secretary Patricia Hewitt has found herself embroiled in a bitter dispute over job cuts in the National Health Service in the last week. Everyone is crying foul – patients, the Unions, the nurses (all BBC links) – but what is actually going on and who is to blame for all of this?

Firstly, the NHS has enjoyed a major funding boost over the last 5 or 6 years. Services have improved across the board – I think this is generally appreciated. If patients are asked what they think of the NHS and its services, they will tell you better things now than they did in 1997. There is some sort of a perception gap – those that have used the NHS think it is better than those that have not (see this column from Polly Toynbee for more). Hence I wonder whether part of the predicament has been NHS trusts just assuming that the investment is going to keep on coming, and hence their choice to recruit too many staff.
Secondly, the government has handled its response very badly. Patricia Hewitt, whose awful patronising manner is akin to a 1950s headmistress, blithely stated that the NHS was having its best year ever. Not really a sensible approach! She did however also say that the government was not going to write the NHS a blank cheque – quite right. But I am not sure that the communication betweent the Department of Health and the NHS trusts has really worked effectively.
Related to this is the third issue: communication and trust. In Britain everyone loves doctors and nurses – the darlings of UK public service – and dislikes managers and politicians. So when the nurses have a whinge about job losses, the public always assumes that they are right and that everyone else is wrong. Add Patricia Hewitt's abrasive approach into the mix and matters become highly complex.
Last but not least is the thorny issue of reform. Part of the problem is that Britain still has too many people in hospital for too long, and the government has realised that this needs to be addressed. This BBC comparison of healthcare in Sweden and the UK is illustrative. Further, the push is for larger, more effective hospitals, rather than smaller hospitals that do everything. This leads to howls of indignation from inhabitants of small towns that might no longer have a hospital, or an A&E department. The government continues to talk blandly about how reform of the NHS is necessary, but they never seem to make it clear why the reforms are needed. The word reform seems to slip out of Blair's mouth without a second thought.
So please, please let's draw a line under all of this. The NHS needs to take responsibility for mis-management, the government needs to take responsibility for lousy communication, the health workers need to realise that their jobs need to change, and everyone needs to reach a decent consensus on the way forward. All the parties complaining at each other, as has happened this week, serves no-one's interests.