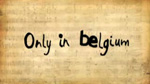 Realising that its international reputation is not, ahem, what it once was, Belgium has launched a PR campaign called "Only in Belgium" to try to attract investment. Apparently this initiative goes across the language divide in the country – so much so that the map on the homepage prominently displays all three regions. The real gem of the site is the 'intelligent tax system' – even putting that on the site requires a surrealist mentality akin to Magritte – you need to be damned intelligent to understand taxes in Belgium or indeed the text on the site:
The 'new domestic dividend withholding tax exemption' is also likely to become very popular among investors. The new domestic dividend withholding tax exemption extends the EU Parent-Subsidiary Directive between the 25 EU-countries and Switzerland to all countries worldwide that have a double tax treaty with Belgium , such as Hong Kong and the United States.
Sounds fun to me…
Anyway, how about some suggestions for Only in Belgium…
…can the country survive without a proper government since 10 June 2007
…can four cars approach a crossroads and none then move because each is giving priorité à  droite to the others
…do all the motorways have street lights so the drivers can see the potholes
…does the language spoken by your political party become an issue of constitutional importance
…do facades get stripped off office blocks only for the renovated buildings to stand empty for ages
…do traffic lights have different coloured poles in different parts of the country
Further suggestions?