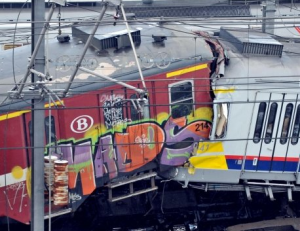 Tragedy hit the Belgian railways today with the crash of two commuter trains at Buizingen. There's nothing I can add to what has been written about that already – any loss of life is always devastating, and I just hope this crash was not caused by linguistic issues.
But instead I would like to focus on what the railway companies are doing in response to the crash, for the whole of the Brussels-Hal main line (which includes connections to between Brussels and both Paris and London) is blocked at least for the whole of Tuesday 15th February.
Eurostar has been quick off the mark explaining to passengers what they should do. It's a bit of a mess – taking a train via Gent and Lille Flandres – but it would give you a route to get to London.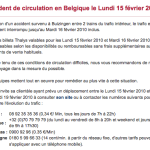 So what about Thalys, operator of about 25 daily services between Brussels and Paris. Absolutely nothing. They announce on their website (see screenshot to the left) that all services are simply suspended. So a good friend of mine in Brussels is going to miss her mother's birthday in Paris tomorrow as a result, and surely many thousands of other people – who for reasons personal and professional – need to get themselves from Paris to Brussels and vice versa.
Because of one tragedy on the Belgian network this is no reason to mess everyone else's life up!
So, as Thalys isn't doing anything at all, what could they do? There is a branch off the Hal-Lille High Speed Line not too far from Tournai (on Google Maps here) that's used for the daily Paris-Mons-Charleroi-Namur Thalys service. Thalys trainsets are able to operate across the entire Belgian network as far as I am aware, and at speeds of up to 160km/h on regular lines. Thalys could very easily direct all its services off the High Speed Line close to Tournai and route the trains on the regular route used by Charleroi-Brussels services, via Nivelles. The journey time on that route would be something around 2 hours, perhaps 2 hours 15 minutes. Thalys could easily operate every other train and have enough trainsets to cover the extra journey time.
Another alternative would be for all Thalys trains to terminate in Hal, as the rail accident was actually at Buizingen, a good few kilometres north of Hal. Hal station has half a dozen platforms – surely enough for a few Thalys trains to terminate? Yet another alternative would be for Thalys trains to terminate at Kortrijk instead, and from there passengers would take a Belgian internal IC train via Gent.
So why do they not get on and do it? Is Thalys just so damned smug in its market position, with its monopoly on Paris-Brussels rail services, that it just does not think it needs to do anything? It's pretty damned lousy.
[UPDATE]
A regular blog reader who is a Thalys regular traveller has just mailed me the Thalys news e-mail about the service disruption – 48 hours after the Buizingen accident they just state that traffic is fortement pertubé. Great, thanks folks. Very handy, and very timely. Click here to view a screenshot of the Thalys mail.