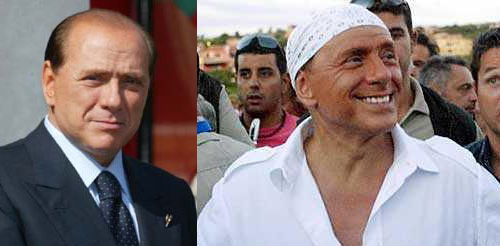 How the hell has the Italian electorate once more elected this man? While in Italy we can expect an alliance with post-fascists and even greater media control in his hands, the international scene can wait with baited breath for more of those excruciating foot-in-mouth moments (such as regarding Finland and the EU Food Safety Authority). Let's at least hope the EU keeps a proper eye on his media empire.
Anyway, at least Berlusconi is 71 now, and has a pacemaker. I do however suspect a quarrelsome coalition is more likely to be his downfall than any health issue though.
[UPDATE, 17.04.08]
It's started already… Berlusconi has described Zapatero's cabinet that contains 9 women and 8 men as "too pink" and reckons Zapatero will have problems leading them. Apparently few people in Italy even remarked about this. More from EUObserver.