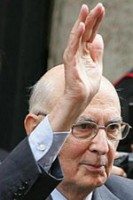 I spent an hour this evening at LSE listening to Italian President Giorgio Napolitano [Wikipedia] speak on the topic 'Is there a future for European Integration?', part of the LSE European lecture series [details].
The event got off to a bad start: a standing ovation for Napolitano in typical Italian style (there were plenty of Italians present), and a long period of applause. What for? For arriving? For just being President? I'm glad that this overly deferential approach no longer applies in UK politics.
Napoliano then started his speak – in decent English – but seemed to just have nothing interesting to say. I was hoping to be able to write something for Italian Economy Watch as a result, but Napolitano devoted all of 2 sentences to economic matters, in a speech that lacked any discernable direction or structure.
There were a few blithe statements about how Europe needs a better role in the world, how we need to feel secure in the face of a terrorist threat, how wonderful the Erasmus scheme is, bla, bla, but above all, he had absolutely no plans or ideas for the future. I'm sorry Napolitano, but you are now supposed to be a leader. You are supposed to be one of the people that has a position to inspire others, to give some ideas for the future. OK, I know the Italian President has little power, but surely some vision and statesmanship should be possible.
To cap it all, Professor Sarah Worthington, chairing the event, gave a sick-inducingly positive assessment of the speech, stating how welcome Napolitano's vision was. Did she listen to the same speech as I listened to? Or was she just pandering to the deferential audience?
Or is it just that I have been to so many political speeches that I can't ever get inspired any more? If we can't look to our political leaders to help us find a way out of our current economic and political predicament, where can we look?