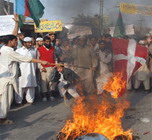 Things have gone from bad to worse with this row over the cartoons of Muhammad that first appeared in Jyllands-Posten last year. For an excellent and concise overview of what has been happening, see this blog entry from Robert Lindsay.
Right, so let's put a few things straight. The cartoons were published, and great offence has been caused. No doubt about that. But – realistically – what can be done about it? Anders Fogh Rasmussen, the Danish Prime Minister, has done what he reasonably can: he has apologised for the offence caused, but has stated that in a country with a free press, he cannot and should not control what the press writes. I can understand why other European newspapers have responded by also printing the cartoons – it was an act of solidarity with Jyllands-Posten. More on that here.

All of this shows the scary power of the internet and world wide media – if such cartoons had been printed a half century ago, would we have seen the same reaction? Further, it seems to show that there are plenty of countries that seem unable to deal with the concept of free speech, and that one newspaper doing something is the same as the whole of a country doing something. Mix into this a lot of hard line religious dogma, and you have a horrid mess.
Just to give a kind of overview, let's take the words of Samir Zaghir, from the Palestinian Ministry of Foreign Affairs who was quoted by the BBC as saying the cartoons are offensive to many Arabs and Muslims. "Have you ever see any Muslim write about Jesus in this way?" Well, no. But how many Muslim countries have a genuinely free press in which such a cartoon of Jesus could be published? And if something was written about other religions, I would doubt that the reaction of the people would be to start burning Iranian or Syrian flags in the street. Further, there are plenty of offensive things that have been said about the Christian religion – take Jerry Springer The Opera or something like that.
And worst of all, the reaction in Gaza and in Indonesia has been violent, just when Islam had been provoked by a cartoon showing the Prophet wearing a turban shaped as a bomb with a burning fuse! I wonder whether the irony of that has been understood?
Anyway, what should be done about all of this?
1. Leaders of all of Europe's countries, and the European Commission, should write an open letter to plenty of arabic newspapers, and appear on arabic TV and radio saying that they are very sorry for the offence caused, but press freedom is a central value to European countries, just as Islam is a central value to arabic ones.
2. No more newspapers should publish the cartoons – the damage has already been done.
3. Efforts be made by leaders of countries where violence is taking place to calm things down – some calm language, and appeals for calm, would help for a start.
4. Once calm has been established, European countries need to reflect on what to do. The EU is for example one of the largest funders of the Palestinian Authority, but their offices were the ones attacked. If Saudi Arabia was one of the largest export markets for Arla foods, what should happen now? Should we still keep our trade as open with Saudi Arabia and others as we have so far? I am aware that 2 wrongs do not make a right. But, as some of the richest countries in the world, if European states cannot get their acts together to deal with this in the medium term it shows the depths to which our political leaders have sunk.
I would like to point out that I am an atheist, and nothing can manage to offend me sufficiently to carry out an act of violence. I want to make it clear that I am not writing this as some kind of Christian reactionary. It is the right of every person to have his or her religion, or none, and have that respected. Yet religion should have no special position in our societies that means it can be beyond criticism or caricature.