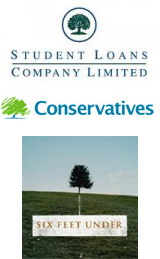 What is going on at Tory party conference? I can understand the electoral appeal of trying to move a party to the middle ground, but the Tories seem to be trying to be greener than Labour, all nice and cuddly, and tough and hard nosed too – see David Davis's comments today about building more prisons, and Oliver Letwin's statements about the NHS [Sunday Times]. This take on the middle ground seems to be to make statements that are all over the place, and hope that the average in people's minds is somewhere close to the middle ground. It's all summed up nicely by this Martin Rowson cartoon, asking what the party members actually think.
Then there's the issue of the logo. The Tories now have a sketched oak tree as their logo, which positions them somewhere between the US series about death, 6 Feet Under, and the UK Student Loans company. David Cameron has also launched Webcameron, his slick video-blog. Yet party old timer Norman Tebbitt has slated the rebrand, stating that the new logo looks like a bunch of broccoli.
This all adds up to an image of confusion – what are the Tories, and what do they stand for? Despite Labour's problems, these criticisms are starting to hit the Tories – a YouGov poll in Saturday's Telegraph [story here] finds 54% of the population that agree "it is hard to know what the Conservative Party stands for at the moment".
If only Labour was in a postion to profit from all of this confusion and inconsistency…