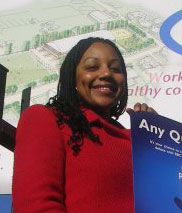 I was shocked to hear today that a good friend of mine, Miranda Grell, has been charged with alleged misconduct by candidates from an opposing political party in the ward she fought – and won for Labour – in Waltham Forest at the 2006 local elections. Miranda refutes the allegations on her blog here. Worse than that, Lib Dem blogger Andy Mayer, a Southwark Councillor I have known for years, follows up the matter on his blog here. So, with 2 people from my 'Friends' blogroll disagreeing about a serious matter, what should my reaction be?
First of all, let's put Andy's facts straight. Miranda did overturn a Lib Dem majority in her ward, but the turnout in the previous elections there was 32%. That was boosted to 38% in 2006. So the implication from Andy's post that her victory was unexpected is wide of the mark. The Lib Dem vote slipped, and the votes for all Labour candidates increased. Leyton ward is also the place where Miranda lives, and has lived all her life. Plus she was the only Labour candidate to be returned in the ward, alongside 2 Lib Dems. Anyone who has ever met Miranda – especially since she became a councillor – cannot avoid being struck by the determination and energy she puts into her work for the people of that ward, and her overall drive and determination. I've known Miranda since 2002 and know here level of commitment and determination; I went out campaigning with her in Leyton, and designed the website of her campaign too.
While Miranda's statement does not say so explicitly, I think we can reasonably deduce that the defeated Lib Dem candidate would be the one that is raising the complaint. Why are they complaining now? Well, they have 1 year after the election to raise an issue according to the act. Sour grapes, 11 months on..? If this matter was so serious, why raise it now?
In short, there is no person I know in the Labour Party that I would trust more to do a good job for her constituents, and to be an honest and upstanding Councillor than Miranda. As parties struggle to attract good young people to be councillors, she is very much the sort of person we should be having as a councillor. Yes, I know it might be fun sometimes to score party political points, but those people coming up with these allegations against Miranda better understand what they are up against – she's hard working, smart, intelligent, and cares deeply about the area she comes from. If the Lib Dems had been like that in 2006 they might not have been defeated, and we would not have these measly allegations now.
[Note: turnout figures amended in light of comments below]