I started university in autumn 1998. The heady days when Blair was still popular. Only not among my intake of students, for we were the first ones to pay tuition fees – £1000 a year then.
This will be the thin end of the wedge we said at the time, once higher education is no longer free then there will be no way back. So it has proven.
I paid fees in my first year (I wasn't even aware there was a don't pay movement as a wide eyed fresher) and resisted paying as long as I could in my second year, by which time the thrust of the argument had been lost. Strangely the 1999 website I made for fees protests, complete with my college e-mail address, is still online.
This is my favorite photo from the protests in Oxford at that time – taken in autumn 1999 as far as I'm aware, scanned from the original photo so I have no precise date. It sums up the energy and the anger very much in evidence yesterday too.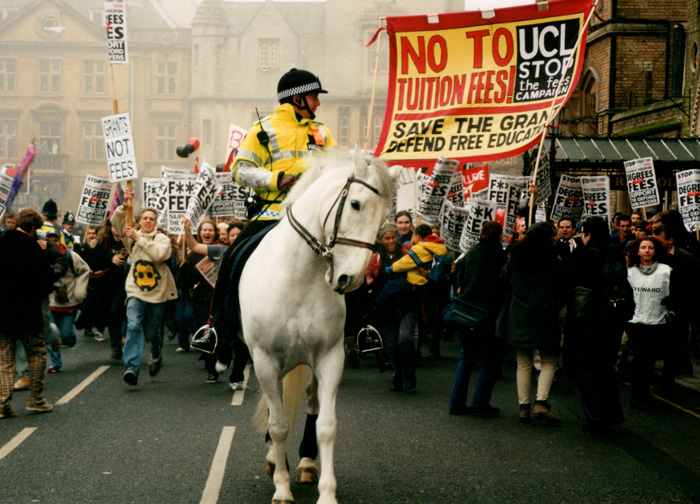 What, I wonder, did we achieve then?
The NUS – dominated by Labour Students – backed fees at that time, and critique of Aaron Porter at the moment strikes me as rather familiar. We managed to get some national press coverage for the cause – I remember a front page spread in the Daily Telegraph and a bunch of protests that nagged at the university authorities. Among my other protest pictures from the time I can identify many people who are still close friends, and others who have achieved political power. But what did we change?
I wonder whether we should have got really angry back then. Done the equivalent of smashing up Millbank? I don't know. Would I have personally dared to be in the middle of it? Where would I have been in the equivalent of Laurie Penny's report? Or was this just the anarchist edge that has dominated student protests over the years, a point underlined by Luke Akehurst today (who was probably himself selling out on fees as a Labour student in the 1990s)?
So I view all of this with some sort of melancholy solidarity. We've lost, and the coalition is hammering the last nails into the coffin, a death that Labour started in the 1990s. Back a decade ago we had naively hoped we could have stopped it. Not so.