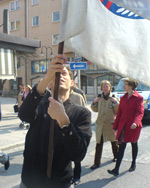 1st of May. Workers' Day. Tends to be a day in the UK for a bunch of anti-globalisers to cause a fuss in central London, and not much else in the UK. The Labour Party has tended to steer clear of the day in recent years, wishing to avoid being too closely associated with socialist and/or communist traditions.
Not so in Sweden! The Social Democrats in almost every municipality in the Stockholm county, and indeed across the country, manage to organise a march for 1st May – I happened to be at the march in Sundbyberg with Helena and all the other people I know from the Socialdemokraterna Stockholms län. A few hundred people walked through the centre of Sundbyberg, and then held a rally in a park (pictures if you click 'Read the rest of this entry »'), where the local party leaders and Prime Minister Göran Persson spoke. Persson's speech – in as far as I could judge from body language, understanding a bit, and from some translations from Helena – was decent enough. He also likes to speak of Sweden becoming non-dependent on oil by 2020 (see this article for more detail), a policy I wholeheartedly support.

In the afternoon everyone got together in central Stockholm for the main march with a few thousand people and whole load of banners, marching bands etc., and also finishing up with a speech from Göran Persson. However, both the smaller event in Sundbyberg and the larger one in Stockholm were a bit flat somehow. These are no longer protests against something, but are a kind of celebration of what has been achieved only on the streets and with banners! Now, I love a good march – I think it's often great fun and really inspiring. Yet while all the history is very decent and worthy, is it still the right thing to do to march about these things? I'm not sure.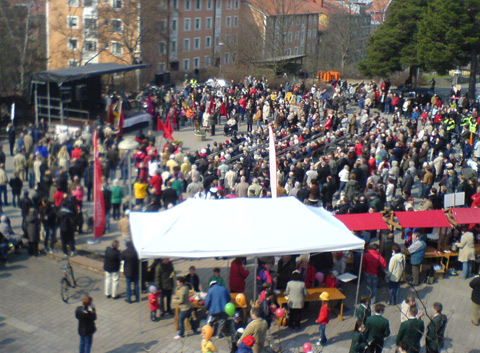 Rally in Sundbyberg

Göran Persson speaking in Sundbyberg