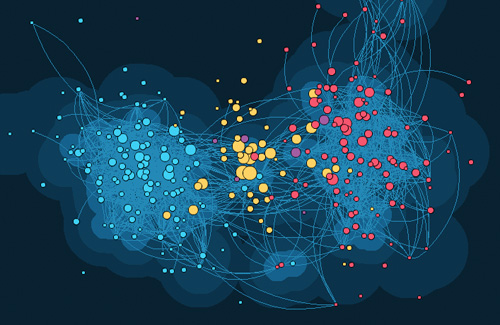 I've stumbled across this excellent map of the US political blogosphere (small screenshot above), showing who links to whom and which sites have the highest influence. The colours on the map demonstrate political affiliation. Toute l'Europe has tried something similar for European politics, but to be quite frank they have so many categories that I'm left very confused. Most (but not all) the links on their map are in French. It would be a fun way to look at the Eu blogosphere to create something similar, but as the maps are a commercial venture of Linkfluence I suspect that won't be happening soon!
[UPDATE -Â  21.03.2008, 1630]
I've discovered a Facebook application called Nexus that plots all your Facebook friends on a sort of graph, showing which of them have friends in common. I wonder whether the technology that runs it could be used for mapping which bloggers link to each other? Problem is that I have rather a lot of contacts on Facebook, so the graph is a bit strange!