This tweet by @BenC42, at 2110 this evening, alerted me to a potentially interesting development in the negotiation of the Transatlantic Trade & Investment Partnership (TTIP):
@europeangreens @SkaKeller @jonworth Commissioner-designate Malmstrom says she is ready to remove #ISDS from #TTIP http://t.co/gm95qbhhGU

— Ben C42 (@BenC42) September 26, 2014
This pointed me to a press release from the S&D Group in the EP, dated today but not timed, where David Martin MEP welcomes words by Trade Commissioner nominate Cecilia Malmström that she is willing to remove investor-state dispute settlement (ISDS) from TTIP (one of the most controversial aspects of the proposed trade deal).
Then at 2217 comes this tweet from Malmström: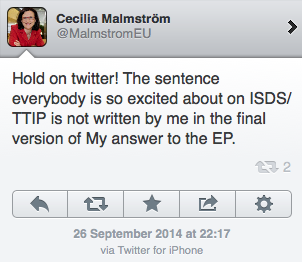 This is however only a screenshot (from Tweetbot, my Twitter app, hence why it looks different to the tweet above from @BenC42), because the tweet was deleted within minutes. This was the original URL of it.
Malmström then followed up with this reply to me:
@jonworth It is simply the wrong version

— Cecilia Malmström (@MalmstromEU) September 26, 2014
I am trying to get to the bottom of this, because the document that seems to have been the basis of the S&D Group's Press Release – be that the right version or the wrong version – does not seem to be available in public.
Even if the wrong version of a document ended up going to the EP from the Commission it's nevertheless interesting that ISDS was potentially going to be dropped in an initial draft, and at the very least this is administratively embarrassing to the Commission.
If I get more background information about this case I will update the post accordingly. Thanks so far to @BenC42, @GlynMoody, @ibuscke and @MalmstromEU herself for the clarification.
[UPDATE – 26.9.14, 2256]
Turns out that what Malmström would claim is the wrong version of the document – which is actually her written answers to the EP before her hearing next week – has been put up on his website by the Green MEP Sven Giegold here. The text that's caused the fuss is this (my emphasis):
As the President-elect Juncker has committed himself to in his Political Guidelines – and I quote –, "the Commission will negotiate a reasonable and balanced trade agreement with the United States of America, in a spirit of mutual and reciprocal benefits and transparency. Europe's safety, health, social and data protection standards or our cultural diversity will not be sacrificed on the altar of free trade. No limitation of the jurisdiction of courts in the EU Member States will be accepted in this context; this clearly means that no investor-State dispute settlement mechanism will be part of that agreement." I fully support this approach of the President-elect and will work in this sense in the negotiations, which are ongoing and where this issue is on the table.
[UPDATE – 28.9.14, 1600]
I have had a crazy schedule the last few days, so haven't updated this until now, but a few things have happened in the last 36 hours…
This tweet by Nicholas Whyte on Saturday afternoon
@yankeeu See http://t.co/fQkoZWsZJX section 6 middle para (15 July). @MartinSelmayr @jonworth @MalmstromEU @TheProgressives @JunckerEU

— ???????? ????? ?? ?? (@nwbrux) September 27, 2014
examines Juncker's statement on this issue, that are rather similar to the words used by Malmström, and that statement from Juncker is dated 15th July, confirmed here by Juncker's Chef de Cabinet Selmayr. So, is this whole thing a storm in a tea cup?
On Sunday Tagesschau in Germany have started reporting on this (text of the news story in German here – and better late than never, only 36 hours after this blog entry first went up!), and that Malmström has sent a re-drafted version of the document in question to the EP. Tagesschau says it has the document, but does not link to it, and Giegold has not published it either. The document should be available tomorrow (Monday) in any case.
Lastly, and slightly tangentially, David Meyer has written a piece about letters from Malmström obtained by a Freedom of Information Request in the USA regarding data protection, seeming to indicate she was undermining Viviane Reding on this issue. While not directly related to TTIP, looking to be too close to the USA might make Malmström's hearing in the EP next week extra bumpy.
[UPDATE 29.9.14, 1015]
Euraffex has more on the story here. The section of their piece entitled "A new version – the mystery continues" is the crucial one. The new version of the document sent to the EP now makes no commitment from Malmström herself to get rid of ISDS, but lays this firmly with Juncker's earlier statements, as explained above.
[UPDATE 29.9.14, 1535]
So perhaps it wasn't just an administrative error of the "wrong version" after all. From Malmström's hearing:
so, @MartinSelmayr is responsible for @MalmstromEU's change of view on #ISDS over weekend, says @MarietjeSchaake

— Ska Keller (@SkaKeller) September 29, 2014
Did @MartinSelmayr alter @MalmstromEU's statement to @Europarl_EN? @MarietjeSchaake says track changes show he did. #TTIP

— Peter Spiegel (@SpiegelPeter) September 29, 2014