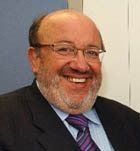 I've always had a degree of respect for Louis Michel, sometime foreign minister during Belgium's 2001 EU Presidency. He seems a jovial and reasonably intelligent chap and, since 2004 as European Commissioner responsible for the development portfolio, has done a decent job – better than his predecessor Poul Nielson at least.
But now he's broken all of that by announcing that he intends to run for the Senate in the Belgian elections in June. First of all he will take 1 month off in order to run, and should he be elected, intends to carry on as a Commissioner – at least as far as I can deduce from this article from Euractiv.
The Development Committee in the European Parliament reckons Michel should resign from the Commission, and I agree with that. Michel is from the Mouvement Reformateur, the francophone liberals, and should be in with a good chance of being elected. Plus the Commission is supposed to act in the European interest, and be formally independent in the way they carry out their tasks. Michel is clearly in breach of that so should resign – he's bringing the Commission into disrepute.