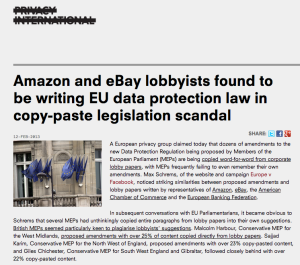 Brussels is lobby-central. Everyone is at it – companies, NGOs, national governments, trade associations – trying to shape legislation that has an impact on 500 million citizens and the market rules for the products these people buy. It's generally said that the EU institutions are the second most lobbied in the world, and that only Washington DC has more people in the business.
So it was a bit of a surprise when today Privacy International called it a 'scandal' that business lobbies have been found to have written – word for word – the amendments to a Data Protection Regulation. The companies doing this are apparently Amazon, eBay, the American Chamber of Commerce and the European Banking Federation. But this practice happens day in, day out in Brussels, and has been for years and years. A old Brussels friend has told me he knew of a MEP in the 1990s who even kept the companies' logos on the papers he submitted with amendments.
This news today was presented on a new and very neat website – LobbyPlag – that also gives a percentage of the amendments tabled by each MEP that is purported to come from businesses.
This created a bit of a counter-reaction from FDP MEP Alvaro, who shot back with a comparison of NGO Bits of Freedom's amendments, and those submitted by Green MEP Albrecht (top story here).
All of this raises a few questions:
1. Is it right for the likes of eBay and Amazon to lobby in Brussels? For me the clear answer is yes – they have a legitimate business concern, and are welcome to present it. Conversely other non-business interests such as Bits of Freedom must be heard too.
2. Is there any substantive difference between a business lobby's amendment being copied word for word, and a NGO's amendment being substantively used by a MEP, or vice versa? OK, a simple copy-paste is more blatant, but as LobbyPlag shows, it makes influence easier to track than an amendment with the same purpose but different words.
3. All this also shines the light on who MEPs meet, as well as the amendments that they submit. The UK Tories have – up until the end of June 2012 – published details of the all the meetings of their MEPs (see 'Right to Know' in the sidebar here), while other MEPs do not systematically do this.
Lobbying and interest representation are an inevitable part of a legislative process. Hence the best that can happen is for citizens to be able to see what their representatives have been doing, who their representatives have been meeting, and to then judge those representatives at the ballot box. Tools like LobbyPlag, the Commission's transparency register, and the work of organisations like Corporate Europe Observatory are vital – we need more transparency, not less. But conversely we should not wish corporate lobbyists did not exist, nor view their practice as scandalous. Not knowing what they are doing is the scandalous bit, and on that front today marks a small step forward.