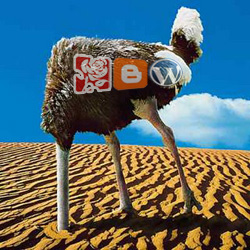 Gordon Brown manages to make the matter of signing the EU Reform Treaty a national disgrace, so what are the reactions? The eurosceptic papers unsurprisingly whine about signing away sovereignty (good piece from Political Betting). William Hague has a field day, accusing Brown of being rude and at the same time signing up to the Treaty. More EU favourable papers like The Guardian publish leaders admonishing Brown, and rather polite comments urging him to do more.
So what about the blogs? Iain Dale chips in with criticisms along the lines of Hague's and a similar line is taken on Conservative Home. There's nothing on Lib Dem Voice or Labour Home about the issue, and one solitary post (other than mine) on Bloggers4Labour – from 'Could Have Been A Contender' who rails that pro-Europeans are incapable of putting forward a case for the EU any longer. Beyond the party political partisan blogs, Gulf Stream Blues has a good piece, as does Jean Quatremer (in French). Richard Corbett MEP's reaction is not surprising from him – he has nothing on his blog about the signing of the Treaty at all, which I read as demonstrating he probably dislikes what Brown has been doing but he's too much of a smooth politican to dare say anything.
Yet let's look a little wider for a moment… As I have argued before there's quite a community of people that blog about EU affairs. But what about within UK political parties? Eurosceptics of varying degrees are well represented (Dale and other moderates, and rabid sceptics like EU Referendum). On the Labour side there's basically nothing – this blog is practically the only one that consistently writes about Britain's relations with the EU from a critical yet pro-EU perspective. There must be other Labour bloggers that care about these issues, but – rather than just be concerned that nothing is being done (see Could Have Been A Contender) – why not try to address the issue and write some decent content? I'm not a Labour blogger ostrich with my head in the sand about these issues – it's time others were more up front and honest too.
[UPDATE – 14.12.07, 1830]
ConservativeHome has picked up on this entry in its Latest News & Blogs section, which also follows a trend – a previous post that I wrote, speculating on the future UK European Commissioner, made Devil's Kitchen, Liberal England and Mark Wadsworth react, and there was nothing from the Labour side. I'm not setting out to cause a fight, but manage to provoke the other side anyway, whereas I would far prefer it if I managed to get Labour folks thinking a bit…
[UPDATE – 15.12.07]
Seems I have been too hard on Corbett – in a post yesterday he says it was a 'pity' that Brown's late arrival allowed eurosceptic newspapers to write about how Britain is marginalized. Ever the smooth operator when it comes to Labour matters on his blog.