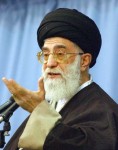 From The Guardian today:
The furious international row over the publication of cartoons satirising the prophet Muhammad intensified today when Iran's supreme leader, Ayatollah Ali Khamenei, claimed it was an Israeli conspiracy motivated by anger over Hamas' win in the Palestinian elections.
Sorry, but this is just ludicrous. The cartoons were first published 30th September 2005, and while things rumbled on in the Autumn, the first major change was when on 26th January Saudi Arabia recalls its ambassador to Denmark and Libya stated it was closing its embassy in Copenhagen. The Palestinian elections were on 25th January, so linking them to the cartoons would have meant Europe and Israel had colluded at lightning speed!
"The west condemns any denial of the Jewish Holocaust, but it permits the insult of Islamic sanctities," said Khamenei. Well, I don't think that the killing of 6 million people can in any way be considered to be comparable to some cartoons satirising Islam. OK, I say that as an atheist, and perhaps I just don't understand the madness of religious fervour.