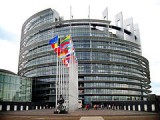 President of the European Parliament Josep Borrell, when talking about the Strasbourg seat of the European Parliament, last week stated that the "historic dimension [of Strasbourg] cannot be perceived in the same way in 'some Nordic country' which did not participate in WWII" (news story from EUObserver here). What a prat. It has been generally assumed that he was referring to the oneseat.eu campaign that was initiated by a Swede but supported by people from all over Europe, but there are so many things wrong with this statement that it's hard to know where to start.

[Update] You can now nominate European politicians for the European Voice's 50 Europeans of the Year. Cecilia Malmstrom, initiator of the oneseat.eu poll, is nominated for campaigner of the year. Give her your vote!
Anywa, back to Borrell.
Firstly, I don't think that any of the people signing the petition are opposed to the historical significance of Strasbourg. But that symbolism is just not enough any more to justify millions of Euros of expense. Stick whatever institution you want in Strasbourg for symbolic, but stop the EP's travelling circus and the decreased efficiency of the institution that this causes.
Secondly, does suffering in World War II today give special weight to one's views? Yes, Europe has always been a peace project, but surely we must be beyond the stage where those states that suffered have to be treated differently in the EU?
Above all, Borrell ought to get a grip of reality: the Strasbourg waste of money inexorably damages the reputation of the European Parliament presently. If that was stopped, the European Parliament might better be able to assume a stronger role in defending the views of citizens to the other institutions in Brussels. That would make a much bigger contribution to the cause of peace in Europe that some costly symbolism.