UPDATE 10.4.10: This is not a blog entry about the death of the Polish President Lech Kaczynski (Yahoo erroneously ranks this entry in searches for 'Kaczynski dead') – for news about that tragic accident please see this story from BBC News.
Former Polish PM Jaroslaw Kaczynski drew widespread scorn in Brussels in 2007 by stating that, when dealing with voting weights in the EU in the European Constitution / Treaty of Lisbon the number of men Poland lost in World War II ought to be taken into account. This from BBC News contains the background and some of the reactions. The EU, lest we forget, started out as a peace project to reconcile France and Germany after World War II so Kaczynski's comments were rightly criticised.
Fast forward 4 months and Kaczynski's Law & Justice Party (PIS) was resoundingly defeated by Donald Tusk's Civic Platform (PO) party in a general election. So how did Poland vote? This map shows the result – oranges are areas where PO was stronger than PIS, and blue areas are the inverse.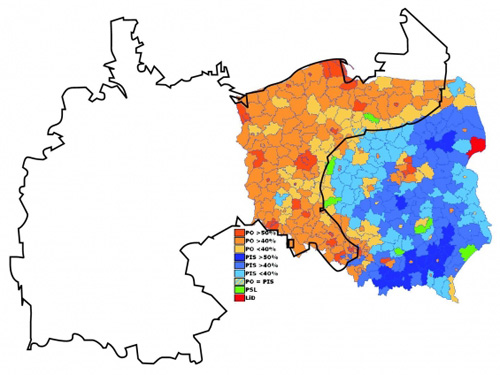 Only there's an addition to the map: the black line shows the borders of Imperial Germany up until 1918. A quite remarkable fit. The map is from the excellent blog Strange Maps, and was produced by David G.D. Hecht. I first heard about it from Kosmopolit.
So is there something deeper behind the anti-Germanic rhetoric of Law & Justice?