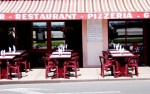 After more than 24 hours of intrigue and wrangling, it looks like Prodi's Unione has managed to achieve the narrowest possible victory in the Italian election. The margin for the Camera was something ludicrous like 0.06% but the election system means Prodi will get 55% of the seats. For the Senato, Prodi will have a majority of 2 and the balance of power: the Italians living outside Italy!
This is especially ironic as the plan to give these Italians a vote was the idea of Berlusconi's government, and now they have voted for Prodi he is crying foul and calling for investigations into vote rigging – see this from the BBC! Seems he's about as graceful in defeat as he was in the campaign… He's also made an appeal to Prodi to create a grand coalition, a request that Prodi has sensibly turned down.
Yet beneath all of this claim and counter claim is a very serious issue: what should the rights of Italians living outside Italy actually be? Some of the people voting have never lived in Italy throughout their lives. The idea to give them representation is similar to the situation in France where there are 12 Sénateurs représentant les Français établis hors de France – see the special website for them here.
On the other hand, the situation for Brits living abroad is far from easy – they lose the right to vote in UK elections after 15 years of residence outside the UK – see this detailed article from The Telegraph. Then the issue is further complicated by the fact that voting in municipal and European Parliament elections is based on residence rather than nationality, allowing EU citizens to vote wherever in the EU they live… And then there is the issue of how different countries grant rights to ethnic minorities to vote. The UK has always been OK with granting those from Commonwealth countries the right to vote, while most of Germany's Gästarbeiter still have no possibility to gain a political voice. All of these issues and more are summed up by Richard Laming in the Federal Union Blog.
It's clear that the whole of Europe needs to debate this matter. It's ludicrous that a person of Italian descent owning a pizzeria in Buenos Aires has an impact on Italian politics (and hence European politics) when a British citizen who has worked for the European Commission for 16 years would have no say in any general election anywhere. The solution is to grant rights to votes based on residence, rather than nationality or ethnicity. Government has an impact on you in the place you presently reside, and that is where you should vote. Simple, correct, yet sadly not likely to happen any time soon!