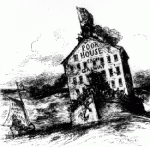 An opinion poll in today's Irish Times finds that 78% of Irish citizens want to re-introduce a permit system for migrant workers from the new EU member states, and a majority of the population thinks that enough immigration has taken place. The article can be found here. It strikes me that such opposition is deeply hypocritical for two reasons.
First, Ireland is now one of the richest member states of the European Union, its wealth thanks in no small part to the influence of EU funds, and now the population is in favour of limiting the opportunities for citizens that need the opportunities the EU offers.
Second, many thousands of Irish have emigrated over the past 2 centuries – many thousands to the the UK and US among other places. When the roles are reversed and people wish to come and work in Ireland, it seems that those memories count for relatively little.
Let's just hope the Irish government does not cave in to these selfish sentiments.