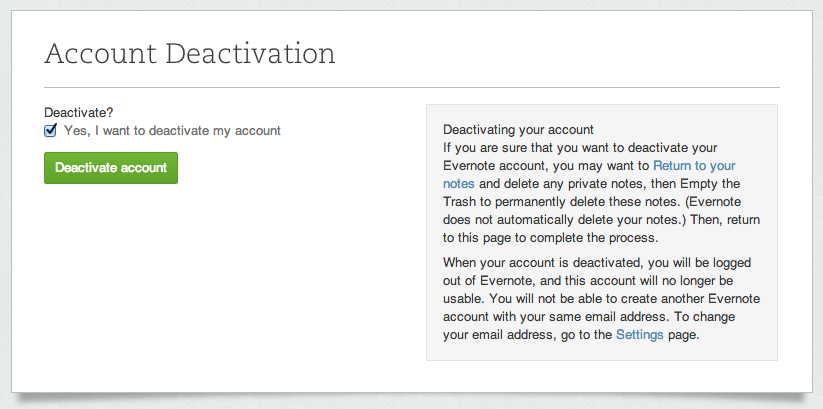 I'm doing a bit of online spring cleaning this week. Old accounts with services I no longer use are being closed for good. It's not necessarily a critique of these services as such, but I think that if I am no longer using a service it's better I close the account.
Only with Evernote you cannot close your account, at least not properly, and that worries me.
The screenshot above is for the closest Evernote has to an account deletion page – but it actually describes a permanent account deactivation, rather than a deletion, and it is also a deactivation without the prospect of reactivation. Yeah, so I can prevent myself from ever having access to the account again, but Evernote still has access to all my data, indefinitely? That strikes me as a major failure.
Googling around further leads me to this Evernote support page in German (I can't get an English version as Evernote sees I have a German IP address and thinks I therefore definitely need German language support, and doesn't allow me to change language either from a menu or changing the URL – a further usability failure) that tells me that I need to delete each note I have saved separately, change my e-mail address listed at Evernote to one I may never then need for an account in future, and then to deactivate my account. However here too I have no idea what data, as a user, Evernote still has stored about me. And does a note deletion really mean it is deleted? Or only from my list of documents?
Now of course there must be caveats to this – if I had shared notes with others, or others had shared them with me, there must be a way to deal with this when an account is deleted. But that must be eminently solvable. As it is currently, from the user point of view, this entire process leaves a lot to be desired!